Burke's Preferred Roofing Contractors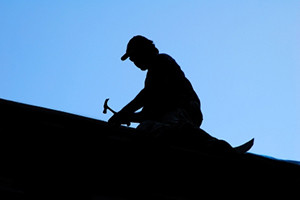 You can hire My Roofer, LLC for your gutters. For over a decade the professionals at My Roofer have helped homeowners in Burke with all their roofing needs. We offer comprehensive service for all kinds of jobs that includes full repairs, roof and attic inspections, old roof replacement and even brand roof construction. We are fully certified and experience with various roof types such as asphalt shingles, metal roofing, tile, and many others. You get complete service from a roofing contractor that you can trust to work on even he most complex roofing systems.
It All Begins With Design
With roofing, design is as important as durability as it enhance the entire look of your home top to bottom. Thankfully, there are roofing options that include texture, color and tone, dimensions. With the right style, your house will stand out. You'll love all the new features and accessories that come with new roofs, and you'll definitely appreciate the quality of construction that only My Roofer can provide.
A Wide Variety of Services Exterior Services
In addition to roofing repairs culpepper, we also offer specialized exterior services that are designed to enhance and upgrade your current home design. Some of Our Services include:
Vinyl Siding
Leaf Guards
Deck Repairs
Skylights
Pressure Washing
Durable Quality Construction
We use long-lasting roofing material of the highest quality from reputable manufacturers you can depend on. We perform each construction job with absolute precision and care in order to earn your absolute satisfaction! Regardless of the type of roof we install on your home, our goal is provide your entire household with maximum protection from wind, rain, sunlight, and extreme temperatures. All of our work is 100% guaranteed and all of products come with warranties.
Total Roof Replacement
If you live in an older home, it's vital to get your roof inspected periodically in order to see what replacements are necessary. We can perform an accurate and honest assessment of your home in order to determine if need your roof replaced. We provide complete roof replacement which includes tearing out the old roof, delivery of all new products, new roof implementation, and final finishing and detailing. You get peace of mind knowing that you have a brand new roof which last you for several years to come.
What Burke Homeowners Are Saying About Us
My Roofer LLC is rated 5 /5 based on these 1 happy customer reviews
---
Todd was absolutely fantastic in contacting and staying in touch with me throughout the process. He was very professional, courteous and friendly. He performed a great job and I was very pleased with how he did the job. Todd gave a great price and service that beat out others that contacted me. I would "HIGHLY" recommend using Todd with My Roofer; you won't be sorry!

---



Recent Articles
Talk Like a Pro: Roofing Terms for Culpeper Homeowners

Nobody expects Culpeper homeowners to be proficient in the different terms used in the roofing industry, but by learning a few key terms homeowners can save time, hassle and money. By knowing the correct terminology, you can communicate more clearly with your Culpeper roofing contractor, describe things precisely and be sure that you are purchasing…

Read More

Roof Repair FAQ For Culpeper

It always pays to learn from the questions of others, especially when they're answered by roof repair experts like ours here at My Roofer, LLC in Culpeper. With a little knowledge, it's easier to spot roof problems and know what to do when you find them. Roofs aren't going to last forever, though many can last…

Read More

If you are looking for a professional roofer then please call My Roofer, LLC at 571-533-7177 or complete our online request form.