Exciting Leaf Guards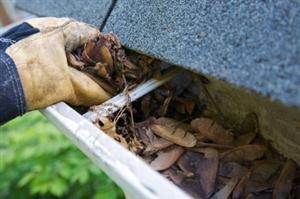 In order to prevent your gutters from getting clogged up with leaves, sticks, acorns, or debris, go with a leaf guard that My Roofer, LLC can install for you. Damages can happen to your gutters which may result in a replacement. You no longer have to worry about any gutter damages with our guards or costly replacement. Call before the chill of fall sets in and prevent falling leaves and other problems from blocking up your gutters.
Gutters are used to protect the roof as they collect water and safely transport off of the structure. Water travels through the gutter toward the downspout where it is released in to ground or basin as some homeowners prefer.
Types:
Keeping Debris Out
Gutter protectors are designed to keep your gutters from becoming full of debris. Gutter protectors generally have a solid top and a curved front surface that is able to lead the water downward into the mouth of a gutter.
Reasons to Have Guards Installed
Leaves and other types of debris can get into your gutters causing them to not function properly in Culpeper. This could cause considerable water damage inside and outside of the home. In order to prevent those damages and the following are why to have our guards installed:
Saves time and money
Less cleaning
Eliminated rusting
Prevents mold
Saving Money
You may not believe it but, having a gutter protector installed on your home can save you a lot of money and time. All the money and maintenance that you once had to put into your gutters will suddenly go away. The only reason you'll need a paid professional is for the installation.
Less Cleaning
Remember how many weekends you spent cleaning out your gutters? You've probably wasted countless Saturdays and Sundays off missing valuable time with the family. Now you can spend more time with the family by calling My Roofer, LLC.
Eliminating Rusting
When debris gets into your gutters, it becomes immersed with the water lying in it therefore creating rust that will eventually ruin your gutters. Rust is one of the most common problems that reduce the longevity of your drains.
Molding
Debris that's collected in the gutter over time will turn into mold which will corrode the remaining areas of your gutters. By prohibiting leaves and other hindrances from getting into your gutters, you can easily stop the problem.
For leaf guards that will stop from ruining your gutters, call in the roofing professionals at My Roofer, LLC. It's our goal to make your exterior as maintenance-free as possible.
Recent Articles
5 Common Signs That It's Time To Replace Your Old Roof

Most homeowners start to suspect that they need a new roof only after they notice a serious leak in their ceiling, but there is a bit more to it than that. While a leak in your roof is a serious issue, it could also be caused by a number of different factors. The trick is…

Read More

Roof Repair FAQ For Culpeper

It always pays to learn from the questions of others, especially when they're answered by roof repair experts like ours here at My Roofer, LLC in Culpeper. With a little knowledge, it's easier to spot roof problems and know what to do when you find them. Roofs aren't going to last forever, though many can last…

Read More

If you are looking for Leaf Guards then please call My Roofer, LLC at 571-533-7177 or complete our online request form.