Professional Roof Repairs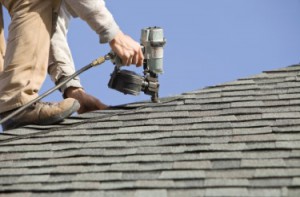 Whenever you need roof repairs done, contact the roofers who are able to take care of your commercial and residential needs. My Roofer, LLC knows roofing like the backs of their hands. You can always rest easy that your roof will be in good hands whenever you have us attend to it. We'll get down to the bottom of your roofing problems and fix whatever it is that's hindering your roof from being functional. We can do a one-time repair or ongoing depending on the severity of your damages.
Trying to avoid a roof leaks is like trying to avoid ants while picnicking. It's nearly impossible to avoid them because leaks will occur from unforeseen damages. And if you want to avoid interior damages, like to your ceiling for example, you'll need to make sure that your roof is in tip-top shape.
Damaged wood
Leaks can damage all that's underneath your shingles. Dry rot will occur and soon you'll be left with no other options than to replace the roof which will be rather costly. For repairs that can mend leaks and take out damaged boards, call My Roofer, LLC.
Termites
Termites can destroy the integrity of even a well-designed roof. Something that you can do, in order to avoid insect damage, is to call on your Culpeper roofers and have them inspect the roof for those and other damages.
Inspections
Repairs are helpful in preserving a roof making it last longer than it's expected to, but what's even more valuable are inspections. A roof inspection will get to the root of your problem and diagnose them in order to get the right fix.
Maintenance
Through maintenance, your roof will always be in the best of shape. Roofs play an important role in the overall structure of a home. It protects us from weather, the temperatures outside and much more. The following are the many benefits you'll receive from our repairs:
Roof Types
There are a lot of different roof types available to homeowners today. Each roof type has both negative and positive qualities to them. At some point, you're going to be in need of repairs either due to the age of your roof or the type it is.
Types:
No matter what type of roof your own, you can always count on My Roofer, LLC for roof repairs. Our repairs are done by qualified professionals who are well trained and always ready to jump on any size project, so if you need residential or commercial roofing, contact us.
Recent Articles
Roof Repair FAQ For Culpeper

It always pays to learn from the questions of others, especially when they're answered by roof repair experts like ours here at My Roofer, LLC in Culpeper. With a little knowledge, it's easier to spot roof problems and know what to do when you find them. Roofs aren't going to last forever, though many can last…

Read More

Fairfax Roof Repairs: Recondition Your Overall Roofing

Before the rainy or winter season sets in, you have to check your roofs for any damage or leakage. Fairfax Roof repairs must be done in order to keep your home warm and dry as possible. Of course, you do not want to encounter several problems that can be so irritating and can cause damages…

Read More

If you are looking for Expert Roof Repairs then please call My Roofer, LLC at 571-533-7177 or complete our online request form.