In Need of a Roofing Contractor in Culpepper?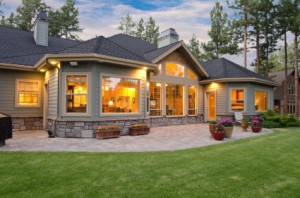 If you are in need of a roofing contractor in the Virginia area that offers many different types of roofing services, make sure that you call My Roofer, LLC. For over 20 years we have been serving the area and surrounding communities.
We offer quality products. Our products differ from others as they come with a 100% satisfaction guarantee. If you are not happy in any way with our services, we will re-do the work absolutely free because we want to see you happy.
Our employees are professionally trained as they are in a continuous course of learning and taking roofing to the next level. We do all types of exterior work such as vinyl siding installations to leaf guards to prevent unnecessary clogs.
There is a lot of exterior services that we offer for both our residential and commercial customers. Just call and we'll come out to your home or business and give you our quality craftsmanship. With our experience and manpower, it's hard to pass our serves by.
Worried that you won't get the right color vinyl siding? We have we got news for you. No more will you have to worry about getting the right fit for the exterior of your home as we have design experts that can help with that and a lot more.
Culpepper Roofing Contractor
When it comes time to finding a reputable contractor, it is important that you have set some guidelines for yourself because there are bulletin boards filled with eligible roofers just waiting to take your money. Here are some simple steps to follow:
Call referrals
Ask neighbors and friends
Get several estimates
Look for experience
An experienced roofing contractor will not only perform your installations or repairs, but they will do them right. You'll never have to worry about who is pounding nail on top of your roof. We're licensed and insured to work in the state of Virginia.
Culpepper Roof Repairs
When it comes to roofing, you cannot beat our roofing contractors. We offer excellent customer service along with award-winning craftsmanship. Your project, big or small, will get completed in a timely fashion because it's your home's appearance on the line.
Types of roofing services offered:
Roof repairs will help to get your roof back to a functional shape again. Living with a damaged roof can be scary as any minute it can fall in and injure family members. To avoid such a mess, it is vital that you call My Roofer, LLC in Culpepper.
What Culpeper Homeowners Are Saying About Us
My Roofer LLC is rated 5 /5 based on these 8 happy customer reviews
---
Todd came out to do an estimate on a roof leak. Realizing that we were supposed to have thunderstorms that same evening, he offered to come back later and fix it before the rain started so that I could avoid more ceiling damage. He did a fabulous job fixing the issue properly as well a pointed out a few other things that we may want to consider in the future since we'd just bought the house. Not an hour after he left, the storms rolled in and they were pretty severe. I'm happy to say that there were no more leaks! And we will most certainly use them again.

---



Excellent Contractor who had top notch roofers with him. Came on time did the job quickly as well first quality materials, roofers and clean up. If need roof work done do yourself a big favor give Todd a call i'm sure you will be well satisfied.

---



Todd has been out to our home several times for roof repairs. He inspects the roof and determines the repair needed before providing an estimate. We have squirrels that like to co-habitate the house with us by entering the roof through the shingling and Todd has made repairs that will make it difficult for them to return. He has previously replaced and repaired inferior builder's quality and subsequent repairman's work along with a number of shingles blown up and broken by the gale force winds that seem to attack the northwest facing main roof. He has become our go-to partner in maintaining our home. He is responsive and very easy to discuss the necessary repairs. His standards are high and I have confidence in what he has repaired. We rate him highly.

---



My Roofer, LLC is THE place to go!! You guys are the best!!

---



Kind and professional individuals! My go to company! All repairs and appointments made in a timely manner!

---



Okay, let me tell you about Todd from 'My Roofer, LLC'. The wind blew a piece of siding and left it dangling, ready to fall. I didn't notice it until my grandson pointed it out when we were putting up some lights for Christmas. I went online and found this wonderful company, and called Todd, who answered the phone, by the way (no answering machine) and told him the situation. Even though he was on another job, he found the time to stop by and grab his ladder and fixed my siding! This was within a couple of hours of my phone call to him! I was so worried because it is supposed to rain/sleet, etc., tomorrow, and I didn't know if I could get anyone to fix this before then. What a wonderful person!! Not *only* did he fix the siding, but after talking to him he offered to help me finish putting up my Christmas lights on my bushes!!! (I couldn't reach them and my step-ladder wasn't tall enough). Talk about personal service! This company is the one to go to for your roof, siding needs and power washing of your siding, and get this! He can also be hired to put up your Christmas lights as well! Todd has that old-time customer service that you don't see anymore and I just wish there were more people like him!! Thank you, 'My Roofer, LLC' for coming to my rescue!! 🙂

---



S. Todd, the owner, was easy to work with, respectful, and really knew his business. The foreman and crew that worked on our house were professional, on time, clean and did their job well, picking up everything each day before they left. They went above and beyond the basics- while putting on the siding around the windows, they realized that previous workmen had done shoddy work. The foreman showed me and then, with my ok, they quickly and carefully removed and reset the windows, then continued with the siding. They touched up some paint while on the roof for me that I couldn't reach and never complained. I highly recommend My Roofer, LLC. A++

---



Recent Articles
Talk Like a Pro: Roofing Terms for Culpeper Homeowners

Nobody expects Culpeper homeowners to be proficient in the different terms used in the roofing industry, but by learning a few key terms homeowners can save time, hassle and money. By knowing the correct terminology, you can communicate more clearly with your Culpeper roofing contractor, describe things precisely and be sure that you are purchasing…

Read More

CertainTeed Roofing Systems, A Top Choice In Culpepper

Is your roof in Culpepper ready for replacement? Are you looking at shingle products and trying to decide? If so, you need to seriously consider CertainTeed roofing products. PG Exteriors works with the best roofing products in the industry. Many homeowners in Culpepper have asked us to install CertainTeed roofs. They come with some of…

Read More

If you are looking for a Culpeper Roofing Repair & Exterior Improvement Company then please call 571-533-7177 or complete our online request form.