Need A Roof Inspection In Culpepper? Why You Want A Professional Inspection
---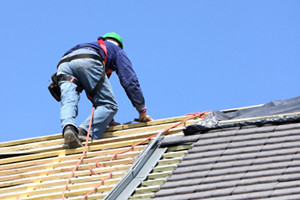 Have you ever tried to get up on a rooftop to inspect it? Perhaps you have. If you are well balanced, young, and fit, then you will probably have no problem.
How about getting up on a roof top to make repairs while carrying up a bunch of heavy tools and equipment and stacks of shingles? How about being up there all day under the sun, swinging hammers and shingles and pulling up stacks of heavy weight materials?
It's a different story to get on a roof and walk around vs. spending all day lugging up materials and working while exposed to winds and weather. However, falling is a leading cause of unintentional injury mortality with 43% involving a ladder. Even among professionals, about 20% happened while on a ladder.
Safety Always First
It's possible you may have some experience working at heights and keeping good balance. However, the majority of the population has not ever even attempted to get up on a high ladder, much less a rooftop, and for very good reason…it's very dangerous!
Unless you think you're able to successfully jump out of a plane with a parachute and land safely, do some serious rock climbing, or bungee jump off a bridge, it's probably best to let a professional handle your roof inspections. It simply isn't worth the risk.
Professional Roof Inspectors Know What To Look For
While obvious signs of roof damage are a no-brainer, there are plenty of problems that only a professional roof inspector is trained to spot. The entire roof structure will be inspected from top to bottom for any signs of decay, improper previous repairs, and loose components. Your inspector will provide you with a detailed report indicating all damage and what needs to be done as far as repair or replacement.
Professional Roof Inspections Keep You Safe
Being a professional roofer offers us the experience we need to stay balanced, focused, and carry on with our work all day on rooftops. Having a natural ability to balance at tall heights is a gift that can't be given or taught. You are either a physically balanced person or you are prone to not be.
If your roof needs repair or inspection, it is always best left up to an expert to do it. Professionals will have no problem taking care of any type of roofing repair or installation you need. 
Where To Get The Best Roof Inspections In Culpeper
My Roofer, LLC has worked to help Culpeper homeowners and businesses since 2000. We strive to provide quality roof inspections, repairs, and replacement.
Many property owners feel very alone and unsure of what to do after their roof gets damaged. Let us assure you that all you need to worry about is that first step of bringing in a professional to inspect the roof.
Our Culpeper roofing services are available to you, so don't try to do the inspection or make the repairs on your own when you have someone ready to help you just a phone call away.
If you are looking for a Roofing Company in the Culpeper area, please call My Roofer LLC at 571-533-7177 or click here to fill out our online request form