Roof Repair FAQ For Culpeper
---
It always pays to learn from the qu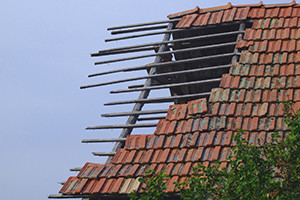 estions of others, especially when they're answered by roof repair experts like ours here at My Roofer, LLC in Culpeper. With a little knowledge, it's easier to spot roof problems and know what to do when you find them.
Roofs aren't going to last forever, though many can last for several decades if properly maintained. Here we will outline exactly in what conditions you should choose between roof repair and installing a new roof.
How do I know if the roof needs repair or if it has to be replaced?
Failure – the first signs of roof failure appear in the building's interior – flaking paint, ceiling stains, discoloration, and peeling wallpaper are all clear signs. Causes like small holes can be patched up, while cracks in shingles cannot be. Whatever the cause, never wait to hire a roofing professional to determine how much the repair and treatment costs will be, and how long your roof will live once complete. If it does not exceed the cost of a new roof and will survive at least its original life cycle, then repair. If not, install a new roof.
Materials – every kind of roofing material requires different levels of maintenance and care. All roof systems require annual and semi-annual inspections and treatment. In fact, all manufacturer's warranties require routine roof maintenance and periodic inspections to keep the warranty valid. Knowing about the material covering your roof will help you in deciding whether or not it is worth repairing or replacing it, and give you an idea of your expected new roof cost versus repair, and new roof costs versus maintenance of existing.
Age – most of your decision is based on the age of your existing roof, which should be checked twice a year in all cases. If a roof is 20+ years old, install a new roof. If it is under 10-15 yrs old, you may want to try to repair it. The main idea here is that you invest in your roof. Don't repair it if the life cycle is ending, or of it exceeds the new roof cost. Install a new roof when repairs are insufficient, and when it is financially more worthwhile.
How do I tell if my roof needs repair?
Roof repair is generally required under the following circumstances. If you're ever in doubt, get a professional roof inspection done. You'll get a complete, written report detailing the exact condition of your roof and what to expect out of it for years to come. Roof repairs are often made due to the following conditions:
After extreme weather conditions (High wind, heavy rain, hail, ice, snow, etc.)
General long-term exposure to weather
Lack of Maintenance
Weak or improper roofing design
Roof repair should be dealt with as hastily as possible, in order to prevent the development of damage into more serious problems, or other areas of your roof. Therefore if you find yourself in one of the above situations, or suspect a possible problem with your roof or an aspect of it, do not hesitate to call us at My Roofer, LLC for a professional inspection– our roof repair technicians are on call for both emergency needs and day-to-day roof repair services.
What should I do while waiting for emergency roof repair work to be done?
When you are waiting for the emergency roof repair technicians to arrive, your main goal is to control the spreading of water coming in; remove puddles, plug open leaks, and set up buckets under leaky areas. Plastic sheeting is also a great way to shield your assets in an emergency situation. At My Roofer, LLC, if we can help you out with temporary repairs, we do it and then later repair the roof permanently, so go ahead and call right away.
Most roofing companies will also. Keep in mind to call right away because if it's due to storms in the area, you'll be competing with your community to schedule service from the roofing contractors. Also, make sure you call your insurance provider right away after storm or fire damage to get the claim process started.
If you are looking for a Roofing Company in the Culpeper area, please call My Roofer LLC at 571-533-7177 or click here to fill out our online request form