Intense Pressure Washing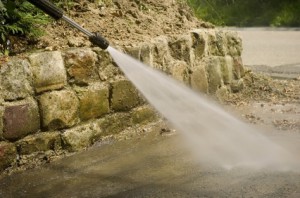 Have you ever wondered what makes a lasting impression on people? It's the exterior of a home or business that people see before making the decisions to enter. For dirty exteriors, you'll need a professional pressure washing outfit. You can find them at My Roofer, LLC. It is one of the most cost-effective ways to clean a home and keep it clean. Call today to get all those years of dirt build-up removed and from making a negative impression on clients, families and friends.
State-of the Art Equipment
Our washers are quality power washers that have an intense spray system to get even the dirtiest of home/business clean again. We only use a safe and gentle solution on your siding that will not damage it nor harm children or pets.
Driveways
Power washings are not just made for the exterior of homes/businesses. They are made for the driveway too. Grease and other liquids escape from vehicles and paste themselves onto the driveway. We can get your driveway, sidewalks and porch cleaned again in Culpeper.
Benefits
The benefits of power washing the home apply a strong force of water pressure to the surface in order to get it cleaned. These units are commonly used outdoor and only by qualified roofers. Using them without reading the manual can result in damages.
Benefits:
Easy cleaning
Time saving
Eco-friendly cleaning method
Simple Cleaning
Conventional cleaning means scrubbing until your knuckles show bare bone. This can be a wasted effort especially on bigger outdoor projects, but through power washing, the ease of cleaning has never been so simple.
Time Saving
Regular cleaning tends to take forever and never rewarding as minutes after a surface is cleaned, it becomes dirty again. This is not the case with power washing as once the exterior is cleaned, it will take years to get dirty again.
Eco-Friendly
A washer does not require the use of any cleaning solutions as it relies on a strong forceful spray to get the job done. Hydro jets of water can take off years of dirt and grime just as easy as a solution can. As a result, no toxic chemicals are used to harm the environment.
Pros of Pressure Washing
There are a lot of pros when it comes to power washing the home. It can not only make your exterior clean again but ensure that the future of cleanliness is apparent because there are so many homeowners that do not feel as though they need a thorough washing to the exterior.
To schedule your pressure washing, call My Roofer, LLC. Roofing is not the only thing that we do right!
Recent Articles
Roof Repair FAQ For Culpeper

It always pays to learn from the questions of others, especially when they're answered by roof repair experts like ours here at My Roofer, LLC in Culpeper. With a little knowledge, it's easier to spot roof problems and know what to do when you find them. Roofs aren't going to last forever, though many can last…

Read More

Common Causes of Roof Damage in Culpeper

Some of the causes of roof damage are connected to the type of roof you have. Whether you are trying to protect and extend the life of an existing roof or you want to protect a new roof, here are some of the main causes of roof damage. 1. Poor Maintenance. It is important to…

Read More

If you are looking for Pressure Washing Services then please call My Roofer, LLC at 571-533-7177 or complete our online request form.