Quality Roof Replacements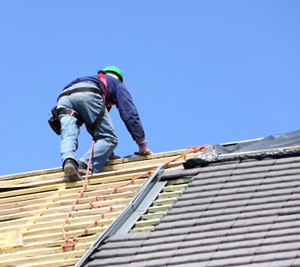 There is never a good day for a roof. Day in and day out, your roof takes a beating from the weather, sun, wind exposure, trees, insects and more. Even roofs that are well taken care of can fall apart prematurely. When that time comes around, call My Roofer, LLC for a roof replacement. We're your best choice for getting you the roof that you have always dreamed about. We're the roofers that you can trust and rely on because we're locally owned and operated. You'll get a personalized service from us that are like no other. Come become a part of our roofing family today.
Coverage to Count On
When something goes wrong with your roof, day or night, you'll always be covered as we have operators that are waiting on stand-by. You'll actually speak to a real person and not some automated service like so many companies offer.
Best Time of Year for Replacements
The best time of your to have your roof replaced all depends on a number of factors. Then condition of your roof should always remain one of the most important considerations in the back of your head just like the following:
Money
Working on a budget can sometimes restrict you from getting the type of roof that you want. But, whenever you use My Roofer, LLC for a replacement, you will get your choice roof because we want to make you happy with our roofing products.
Conditions
Depending on where you live in Culpeper, weather can be an important factor. Normally roofers are busy in the summer months doing repairs and installations. Cooperative weather patterns are best during the late summer and fall months.
Safety
Always make sure that all conditions are right for a replacement. This includes the weather and equipment. Roofers should be equipped with the best in safety standards in order to make the transition smoother.
Schedule
If you're like most, then you are just as busy as the next guy. Children, families and work take up a majority of our time. That's why My Roofer, LLC can work around your schedule. We'll put your new roof on whenever you want it on.
Benefits
You can justify the cost of a replacement once you see all the benefits that it brings to you. The cost of a replacement can be daunting but here are some of the instant benefits you'll notice:
If you're in need of a roof replacement, be sure and call My Roofer, LLC. Your replacement can be done and completed in no time.
Recent Articles
CertainTeed Roofing Systems, A Top Choice In Culpepper

Is your roof in Culpepper ready for replacement? Are you looking at shingle products and trying to decide? If so, you need to seriously consider CertainTeed roofing products. PG Exteriors works with the best roofing products in the industry. Many homeowners in Culpepper have asked us to install CertainTeed roofs. They come with some of…

Read More

5 Common Signs That It's Time To Replace Your Old Roof

Most homeowners start to suspect that they need a new roof only after they notice a serious leak in their ceiling, but there is a bit more to it than that. While a leak in your roof is a serious issue, it could also be caused by a number of different factors. The trick is…

Read More

If you are looking for Roof Replacement Specialists then please call My Roofer, LLC at 571-533-7177 or complete our online request form.